His Highness and the Custodian of the Two Holy Mosques of Islam, King Salman has ordered the Jawazat – General Directorate of Passports on 8th June 2021 to extend the re-entry and exit visas & Iqamas( residence permit) of the Saudi expatriates who are stuck abroad without charging any fee and automatically until July 7 2021.
This  visa extension is  applicable  to the residents of the countries that are on the red list. The red list countries faces the travel ban due to Corona and its variants prevalence in those countries. The visas of these countries expats will be automatically extended immediately.
The  expats who are stranded in Kingdom will also be extended till July 7 2021.
The government of Saudi Arabia is making its best efforts to reduce the burden on citizens and the expats living in the kingdom. The visa extension by the Saudi government has provided great relief for the expats stranded abroad and in the kingdom.
Many of them are facing very hard time due to the challenges brought by the frequent lockdowns in their countries due to Covid-19.The visa extension for the Saudi expats in the kingdom has shown the  concern and soft corner  Sheikh Salman has for the expatriates.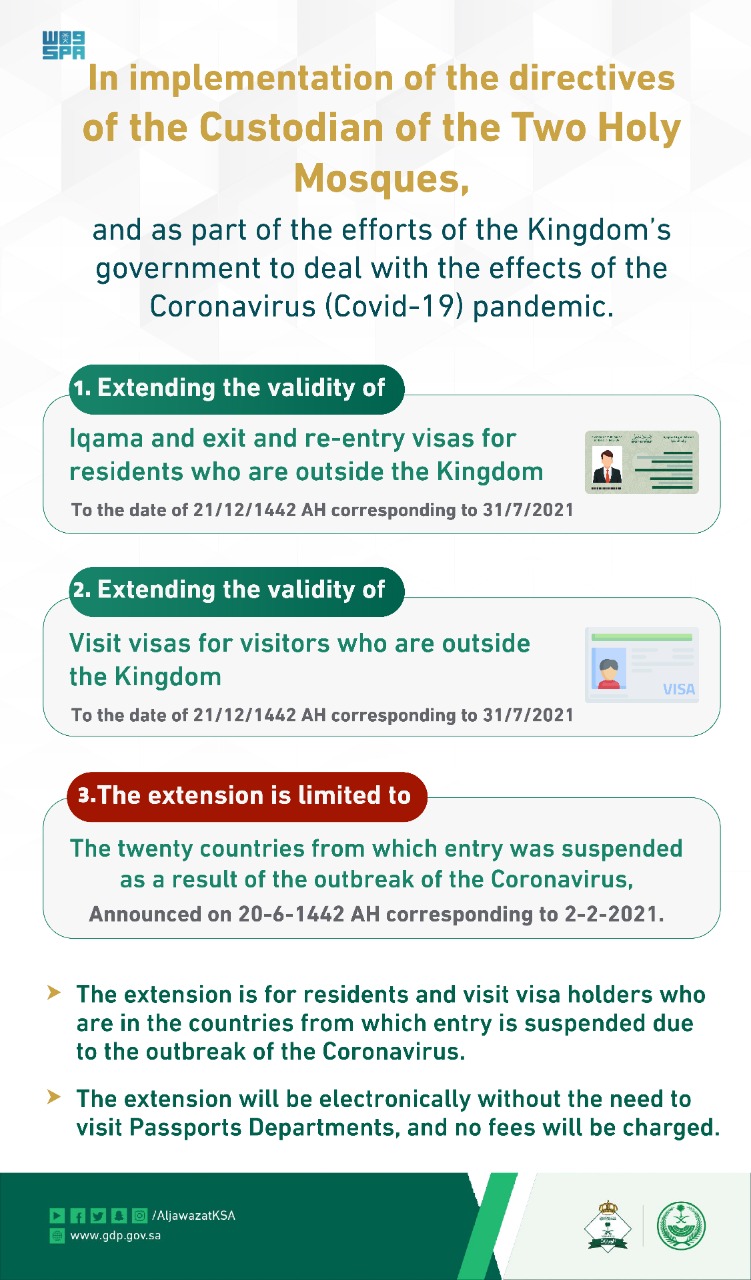 There are 13 countries that are on the Red list of Saudi Ministry of Interior.
The red list countries are as follows.
Syria, Yemen, Iran, Libya, Lebanon, Turkey, Somalia, Afghanistan, Armenia, Venezuela, Democratic Republic of Congo ,Belarus & India.
Read Also:
Saudi Entertainment & Tourism Sectors are Unfathomable opportunities
News related to Expatriates, Iqama, Visa, Jawazat, Jobs, Real Estate, Insurance, Banking and more. Subscribe Us Now! and Keep yourself updated.